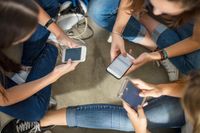 As Teen Stress Increases, Teachers Look for Answers
I've taught frazzled high-performers who eschew sleep for flashcards and always seem on the verge of a breakdown. I've had students who won't come to school because they don't want to compound their stress. I've heard members of a student panel brazenly explain that they felt burdened by their workloads and simply wanted "the points." It's actually become common for student breakdowns to happen and for parents to request their child's upcoming assignments in advance, knowing they'll be out of school.
Though it may seem otherwise, my school isn't a high-stress pipeline for Ivy League colleges, but a diverse public school that is home to both affluent and low-income students. We're like many other public schools where student stress seems to be on the rise and is putting teachers like me in a tough position, causing us to second-guess ourselves and ask whether students are really too stressed—or just lacking time-management skills and angling for reduced homework.
Yet my personal observations that students seem more stressed than in years prior are backed by research, which shows that anxiety, depression, and self-harm are on the rise among teens. According to a 2019 Pew Research Poll, 70 percent of surveyed teens agree that stress is a major problem. Emergency room visits for self-inflicted, nonfatal injuries among children and young adults increased by 5.7 percent from 2008 to 2015, while the Centers for Disease Control and Prevention (CDC) found that between 2007 and 2017, more teens were seriously considering suicide or hurting themselves in suicide attempts than in past decades.
"I've seen an uptick in diagnosable anxiety disorders that almost incapacitate teens," said Dr. Melissa Holland, a clinical psychologist and associate professor at California State University, Sacramento. "It's estimated about one in five teens have a diagnosable mental health disorder, and most of them go untreated."
Rising Pressures
Two years ago, I participated in a question-and-answer session at a preschool that my spouse and I were considering for our daughter. The head of the school asked parents what they wanted for their children in the coming years.
As the kids were playing just feet away, still in diapers, two parents immediately volunteered that they were eager to see their toddlers get exposure to a STEM curriculum. A third parent raised her hand and said that she wanted her child to be happy. Tellingly, her neighbors, squeezed into miniature wooden chairs like overgrown versions of their kids, looked at her with amusement.
The academic pressures and stress faced by teens today start long before high school and seem to escalate every year. The pressure comes from parents and educators who worry—and make teenagers worry—that they won't get accepted into highly ranked universities with increasingly prohibitive tuitions or be prepared for a competitive job market once they graduate.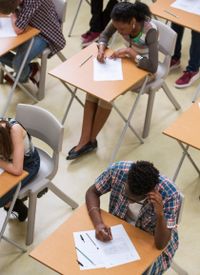 Short on sleep, students reared in the testing-heavy wake of No Child Left Behind (NCLB) enlist SAT tutors, fill schedules with activities and service projects, and take as many honors and AP classes as possible to boost their GPAs. Even with these overloaded schedules, students have no guarantee of getting into colleges—even state institutions—where admission rates keep dropping.
"There are academic and career aspirations, diminishing opportunities and reduced social mobility, and tremendous competition to get ahead," said Daniel Keating, professor of psychology, psychiatry, and pediatrics at the University of Michigan and author of the 2017 book Born Anxious. "For teens [today], it's not clear that there's going to be a prize at the end."
He explained that students react more intensely when their world feels less stable than they expect—and less likely to reward their efforts and hopes with desired outcomes. For teens in particular, these pressures can be especially challenging to navigate, given their stage of brain development: They simply can't manage the stress like adults.
They are simultaneously more sensitive and less capable of controlling impulses, said Keating. "The stressors feel even worse [for teens], which leads to behavioral issues, hair-trigger responses, acting out, and an inability to keep things in perspective—or, alternatively, becoming more isolated."
Friends
While most students would say that friends are one of their favorite aspects of school, they can also be a source of stress. Concerns about not having enough friends, not being in the same class as friends, not being able to keep up with friends in one particular area or another, interpersonal conflicts, and peer pressure are a few of the very common ways kids can be stressed by their social lives at school. Dealing with these issues alone can cause anxiety in even the most secure kids.
Things have changed in the world of bullies. The good news is that the days of teachers looking the other way and parents leaving kids to deal with bullying on their own are mostly over. Many schools now have anti-bullying programs and policies. Though bullying does still happen at many schools, even those with these policies, help is generally more easily accessible than it was years ago.
The bad news is that bullying has gone high-tech. Many students use the Internet, cell phones, and other media devices to bully other students, and this type of bullying often gets very aggressive. One reason is that bullies can be anonymous and enlist other bullies to make their target miserable; another reason is that they don't have to face their targets, so it's easier to shed any empathy that they may otherwise feel. There are ways to combat "cyber-bullying," but many parents aren't aware of them—and many bullied kids feel too overwhelmed to deal with the situation.
Overscheduling
Much has been said in the media lately about the over-scheduling of our kids, but the problem still continues. In an effort to give their kids an edge, or to provide the best possible developmental experiences, many parents are enrolling their kids in too many extra-curricular activities. As kids become teens, school extracurricular activities become much more demanding. College admissions standards are also becoming increasingly competitive, making it difficult for college-bound high school students to avoid overscheduling themselves.
Due in part to the busyness of kids' lives and the hectic schedules of most parents, the sit-down family dinner has become the exception rather than the rule in many households. While there are other ways to connect as a family, many families find that they're too busy to spend time together and have both the important discussions and the casual day recaps that can be so helpful for kids in dealing with the issues they face. Due to a lack of available family time, many parents aren't as connected to their kids, or knowledgeable about the issues they face, as they would like.  
Source:
https://www.edutopia.org/article/teen-stress-increases-teachers-look-answers
https://www.verywellfamily.com/social-causes-of-school-anxiety-3145171
https://www.princetonreview.com/high-school/learning-without-stress