Run Contests on Social Media to Attract Attention
A contest is a subtle way to promote your product without actually advertising it. Running contests on social media platforms will drive audience's attention towards your product. To reap maximize benefits from the contest, keep it fun, simple, and offer giveaways to all participants. Ultimately, this will create loyalty towards your product in customers; thus, will help you in generating leads in long-term.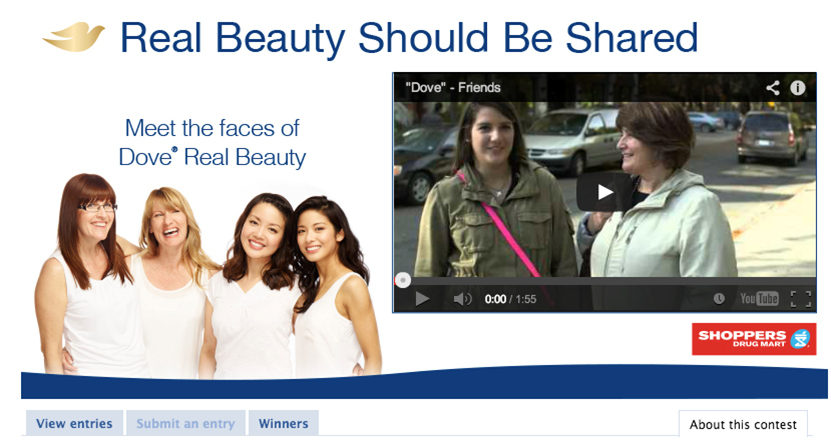 Example: Dove, recently started a "Real beauty should be shared" contest on Facebook. It was a fill-in-the-blank contest wherein users had to tell why their friends represent real beauty by filling in their friend's name and things that make them a real beauty. As a prize for this contest, they gave entrants the chance of becoming the face of Dove (to be printed on Dove soap case). This was a brilliant branding campaign where Dove not only got a genuine face for marketing but also brought huge attention towards its product.
Free and low-cost ways to promote your business online
Business promotion is more than just publishing images on social media or buying ads. It's a process to help you achieve measurable success in your business. Here's how you can promote your business for free to drive traffic and sales for your store:
Guest post on blogs
Free traffic—as opposed to paid traffic that comes from things like purchased ads—is often hard to come by for new websites. You can start blogging to drive traffic, but it takes time before you start seeing results. While you grow your own audience, guest posting gives you a way to get in front of someone else's. Not only does this drive traffic back to your website, but the links to your site will help with search engine optimization.
Find and connect with bloggers who have the type of audience you want to reach. Offer to write a guest post that their audience will love. Make sure the topic you write about is also related to your business or it won't drive any traffic.
Get product reviews
Getting your product reviewed can be a great way to spread awareness and drive sales. Instead of waiting around for someone to review your product, use a blogger outreach campaign to get the ball rolling. You may end up landing a product review in outlets like Buzzfeed, like Shopify merchant RT1home.
Contact bloggers with relevant, engaged audiences and offer to send them new products for free in exchange for an honest review. If you have a great product, they'll love it and tell everyone.
Do an expert roundup
While blogging is a great way to drive traffic back to your store, it can be a lot of work. This is especially true if you don't feel very knowledgeable on a topic you need to write about, or you're not generally comfortable writing. One way around this is to solicit contributions from other bloggers or experts.
Seek out experts on a topic and ask them to contribute an idea, such as a tip, recipe, or story to your blog post. Then, publish a list of all the responses you got back. You'll be providing your audience with great content from relevant experts, plus the contributors will want to share the article with their own readers, increasing your own reach.
Find affiliates to promote your business
If you want to take product reviews a step further and solicit even more people to promote your product, consider starting an affiliate program. Affiliate marketing incentivizes other people to drive traffic to your business by offering a commission on every sale, similar to referral programs.
Finding your first affiliates can be tough if you don't have wide brand recognition. Use an outreach campaign to find and recruit your first few affiliates and get the ball rolling. Look for affiliates who have an engaged audience and are already writing about your industry.
Get included in gift guides
Gift guides are a list of recommended products or gift ideas, typically centered around a holiday (like Christmas) or a person (like your dad). If you've ever Googled for gift ideas you've likely come across several gift guides, like this Valentine's Day gift guide by The New York Times.
Getting your product in the right gift guides can increase sales and traffic to your website. However, inclusion in these guides doesn't happen randomly and requires some effort. In many cases, business owners and marketers lobby to get their products included. Use outreach to contact gift guide publishers and ask to have your product included.
Invest in an infographic
Investing in a professionally designed infographic is one way to drive traffic and potentially build backlinks, which are great for search engine optimization (SEO). The cost ranges greatly for quality infographics—depending on what you need and the skill level of the person you hire—but it can be well worth the investment.
Need an idea for an infographic? Check out sites like Visually for inspiration. Once you've chosen an idea, research the topic and identify the points that you'll cover in the infographic. You can hand this outline over to a professional designer as direction for what you want the infographic to cover (or as a guideline for yourself if you're going the DIY route, in which case you should check out tools like Canva or Piktochart).
Let's say you sell bicycles and related gear. You might create an infographic that talks about the environmental benefits of bicycling. Some points or figures you might include in the infographic could be how much a daily commute saves in fuel emissions, as well as a comparison of the total number of car owners and bike owners.
Top 10 Ways to Use Facebook to Promote your Business for Free
It's just a simple fact: Facebook is a pay-to-play marketing platform today. But in spite of all the griping and groaning marketers did when it first became clear that free Facebook marketing was a thing of the past, they're all still using Facebook to market. Why is that? Because even as a paid platform, Facebook produces an extremely high marketing ROI. In other words – it's totally worth it.
We here at Zen Media have managed hundreds of paid Facebook campaigns for our clients, so we have firsthand experience of the ROI that's possible using this particular marketing method.
1. Create a personal business presence using a fan page. One of the major strengths of social media marketing is its ability to create relationships between businesses and their audiences. The person-to-person interaction that can happen on social media makes consumers feel that they have encountered a brand in a meaningful way and that they now have a special connection with that company. So imagine how much this feeling is intensified when that consumer is interacting not just with "the brand," but with the person behind that brand!
Depending on your personal social media habits, you may or may not already have a personal Facebook account. If you do, and you prefer to keep your personal profile private, Facebook will allow you to create a page for your public, professional persona, as well. Otherwise, you can use your personal profile to interact with consumers. Gain a following by engaging with the people who frequent your brand's page.
2. Maintain a robust brand presence. While it's true that your company's Facebook posts most likely won't show up in your audience's news feeds without paying to promote them, that doesn't mean that you should stop posting them on your brand's page. People today often use Facebook as a search engine to find out more about a company, whether that means basic info like contact information and hours of operation, or what customers have to say about them. A robust, active page that's full of regular posts and lots of audience engagement is a great way to showcase the fact that your customers aren't just satisfied – they're enthusiastic!
3. Join Facebook groups. While most people think of LinkedIn first when they think online networking, Facebook groups actually offer a similar opportunity for professionals. There are any number of Facebook groups dedicated to various industries, professions, and interests. You can use your personal account to join groups of colleagues, as well as groups where your target audience is likely to be found.
The more you contribute to the conversations taking place in these groups, the more your name will become recognized – and synonymous with industry leadership and expertise. The only thing to watch out for here is never to come across as salesy in your discussions – the quickest way to turn off this potential stream of leads and connections is to start promoting your business instead of offering genuine advice and thoughts.
You can customize your search for groups based on various keywords – and Facebook also makes suggestions, based on your profile. Here are some groups Facebook has to offer in the field of "Leadership:"
4. Create your own group. Can't find a Facebook group that really fits what you're looking for? Create your own! You can add members, publish articles, carry on discussions, and probably meet quite a few prospects. The fact that you own the group and control the conversations automatically grants you industry leadership status in the eyes of your members, which can only help when they realize they need the product or service you provide.
5. List your events. Hosting a webinar or speaking somewhere? Create an event page and invite friends and people in the groups you're in. You can even see how many RSVP and get feedback from attendees.
6. Syndicate your blog. If you know that you won't remember or be able to find the time to share your company's blog posts on your Facebook page or profile each week, you can automate the task. There are many different online tools you can use to do this, from simple plugins for WordPress to suites of digital marketing software, that will automatically post each new blog post to your Facebook page for you. More Exposure = More Traffic = More Leads.
Sources:
https://www.fatbit.com/fab/6-creative-ways-promote-product-social-media/
https://www.shopify.com.sg/blog/how-to-promote-your-business
https://zenmedia.com/blog/top-10-ways-to-use-facebook-to-promote-your-business-for-free/