How to write a cover letter in 6 steps
1. Start with your header
, you should include a few pieces of personal and role specific information at the top of your cover letter. This section should include your contact information, date of application and recipient's contact information. If you'd like, you can also center your name and address at the top of the page, mirroring the way it looks on your resume.
2. Include a greeting
In your research, try to find the name of the person who will be reviewing applications for the job. Address your letter to this person with a common business greeting, such as "Dear" or "Hello." If you're unable to confirm the gender pronouns (he/him, she/her, them/they) of the person reviewing your application, it is best to use a gender-neutral greeting such as "Dear [first and last name]" or "Dear [position title]."
3. Write an opening paragraph
In the first paragraph of your letter, mention the job title for which you're applying and where you saw the position posting. Explain your specific interest in the role and company so the reader knows you've done your research and are genuinely interested. Briefly state the main experience or qualification you have that makes you a good fit. The first section of your cover letter is also the first impression the reader will have of you, so it is important to appeal to that person quickly and succinctly.
Example: "I'm excited to apply for the Graphic Designer position at Cloud Clearwater I found on Indeed. I understand you're currently adding several new product lines, and I believe my skills in video and animation provide a significant advantage for creating a successful launch. As a longtime fan of your products, I'm thrilled at the opportunity to bring my unique style and passion for beachwear to the company."
4. Follow with a second paragraph
Your second paragraph should be a brief overview of your background as is relevant to the position. Here, you should include key achievements, skills and specialties that make you particularly suited to perform well in the position. Focus on one or two and provide specific details about your success including measurable impacts you made.
Example: "As the Director of Human Resources at Wes Morgan Philips, I was a key senior leader in the organization and was responsible for improving the efficiency and performance of the company's 540 employees. Before that, I worked in human resources, equal employment opportunity and diversity for Jenkins Technology Solutions, Inc. At Jenkins Technology Solutions Inc., I developed an employee retention plan that involved the creation of a wellness program, an internal training program and a promotions selection process, which led to a 50% reduction in the overall employee turnover rate."
5. Finish with a closing paragraph
The next paragraph should focus on another key achievement or skill that is relevant to the position. Instead of repeating details from your resume, expand on specific stories or anecdotes that display your fitness for the role. Again, focus on stories that demonstrate the skills and qualifications outlined in the job description.
Example: "Achieving ambitious marketing goals is always a top priority, and I am always looking out for the best interests of the company. I enjoy delivering marketing presentations to potential clients and focusing on the strengths of an organization. My marketing skills at River Tech enabled the company to experience new levels of success and a 45% increase in customer engagement. I am never satisfied with the status quo, and I believe that a company should continually look for ways to improve and reach new clients through innovative campaigns."
6. End with a professional signoff
Example: "Thank you for your time and consideration. I'm looking forward to learning more details about the Sales position and about TradeLot. Growth is essential to my continued success, and I'm excited for the chance to be a part of TradeLot's industry-leading team. My proven track record and TradeLot's quality products are a winning combination for increasing the company's market share.
Cover letter examples
Here are two examples of cover letters, a traditional version and a less traditional version. First, read the job description, then read the cover letter. In the first example, you'll see how the writer uses specific phrases from the job description and includes them in the letter.
The second example takes a more creative approach. The author tells a personal story and appeals more abstractly to the attributes called for in the job posting. Both are less than 300 words long.
Example 1: Administrative Assistant
In this role, you will be supporting managers and other senior-level personnel by managing their calendars, arranging travel, filing expense reports, and performing other administrative tasks.
I am drawn to this opportunity for several reasons. First, I have a proven track record of success in administrative roles, most recently in my current job as an administrative coordinator. A highlight from my time here was when I proactively stepped in to coordinate a summit for our senior leaders last year. I arranged travel and accommodation for a group of 15 executives from across the company, organized meals and activities, collaborated with our internal events team, and ensured that everything ran according to schedule over the two-day summit. Due to the positive feedback I received afterward, I have been given the responsibility of doubling the number of attendees for the event this year and leading an internal team to get the job done.
I am also attracted to this role because of the growth opportunities that [name of company] provides. The research that I've done on your company culture has shown me that there are ample opportunities for self-motivated individuals like me. A high level of organization and attention to detail are second nature to me, and I'm eager to apply these skills in new and challenging environments.
Example 2: Brand Copywriter
We are looking for an experienced copywriter to join our team. If you have a great eye for balance, a quick wit, and can adapt a brand voice for any medium, then this role is right for you.
There are at least two less-than-obvious ways to improve your vocabulary (and by extension, your copywriting skills): studying for the GRE and becoming a crossword puzzle enthusiast. I've done both, but for this job application, I'd like to focus on the latter.
My grandmother was the best writer I've ever known. She wasn't a professional writer, but her gift and love of writing was something we shared. It wasn't until last year that I also took up her love of crossword puzzles and immediately saw how the two went hand in hand. Before long, I was solving Monday through Wednesday puzzles in the New York Times, needing to look up words less and less frequently as time passed. Soon, I was able to complete Thursday to Saturday, too. Throughout this process, I could feel my stock of quips, rejoinders and turns of phrase steadily growing. Eventually, I worked up the courage to attempt the Sunday puzzles.
It was this courage that was the real turning point for me. In my current agency, I was already known as a hard worker and creative spirit; my peer and manager evaluations had made this clear. But while I felt confident in my abilities, I had never seen myself as particularly daring. Considering new challenges and mastering each one along the way had given me a renewed sense of myself and clarity about my chosen profession.
I began a career as a copywriter because I was skilled at finding combinations of words to fit a thought or feeling. I'm continuing down that path because I've realized how I can shape and hone that skill to reach new heights. I'd like copywriting at [name of company] to be the next step in my journey.
How to make a cover letter online
1. The quickest way: use a cover letter builder
A good cover letter builder is the fastest way to create a high-quality cover letter. Builders let you choose a cover letter design, ask you a few questions about yourself and your previous work experience, and then generate a letter you can download in different file formats (like Microsoft Work or PDF).
2. Quick but takes some effort: filling out a cover letter outline
Cover letter outline
Body paragraphs: Give an overview of your previous job experience, skills, qualifications, and accomplishments. Don't repeat your resume. Explain what makes you a unique candidate and how you can help the company meet its goals. Use numbers to back up your claims.
Closing paragraph: State that you'd like to schedule an interview and provide your contact information. Say you'll be in touch within a week if you don't hear back. Finish by thanking the employer for their time and consideration.
3. Save time formatting: Use a cover letter template
A template saves you a lot of time setting up the margins, font size, and spacing of your cover letter. Plus you can pick a template with a style that matches the type of job you're applying for, which a hiring manager might subconsciously notice.
How to Write the Perfect Cover Letter (And Get Hired!)
Step #1 – Pick the Right Cover Letter Template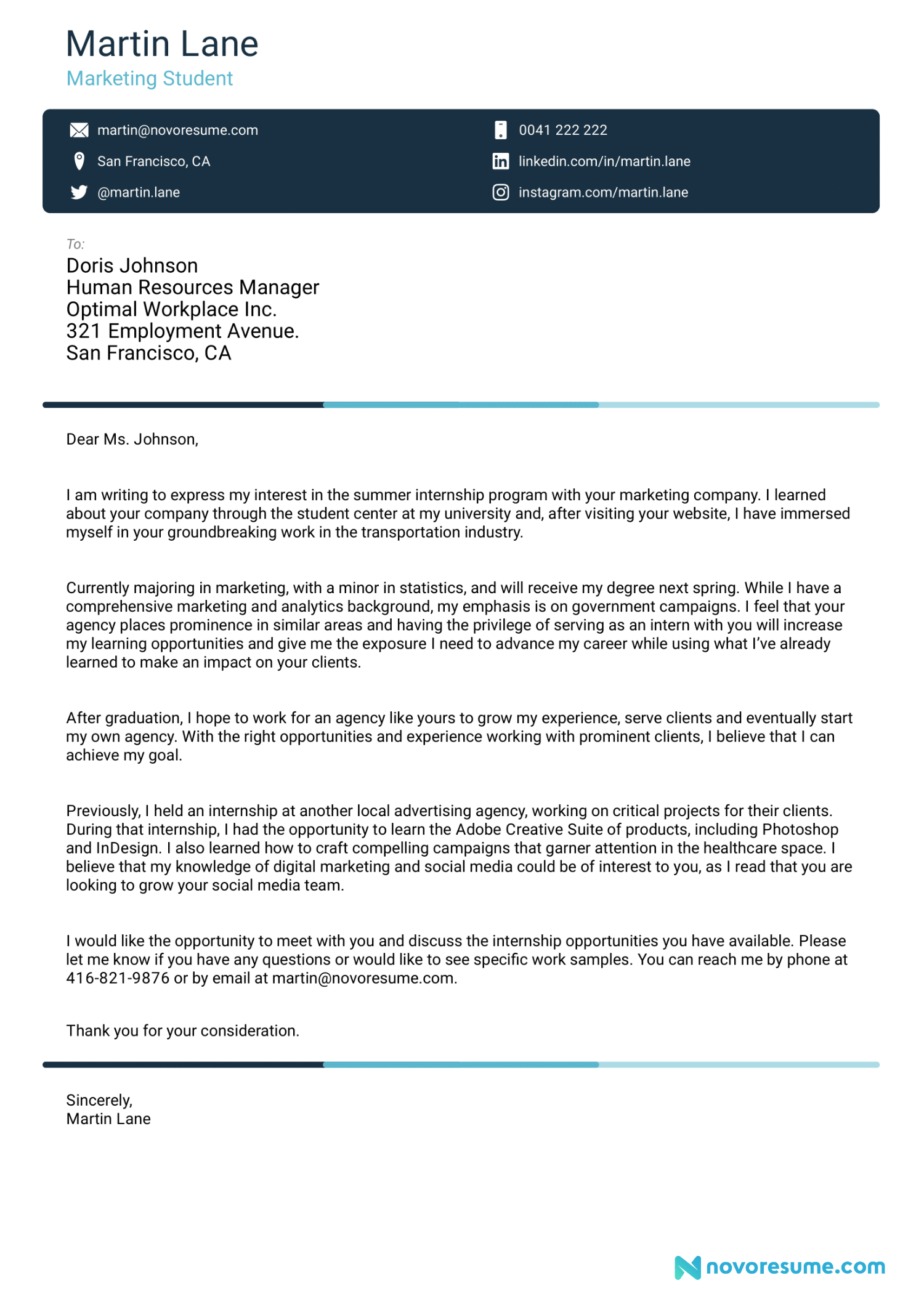 Step #2 – Start the Cover Letter with a Header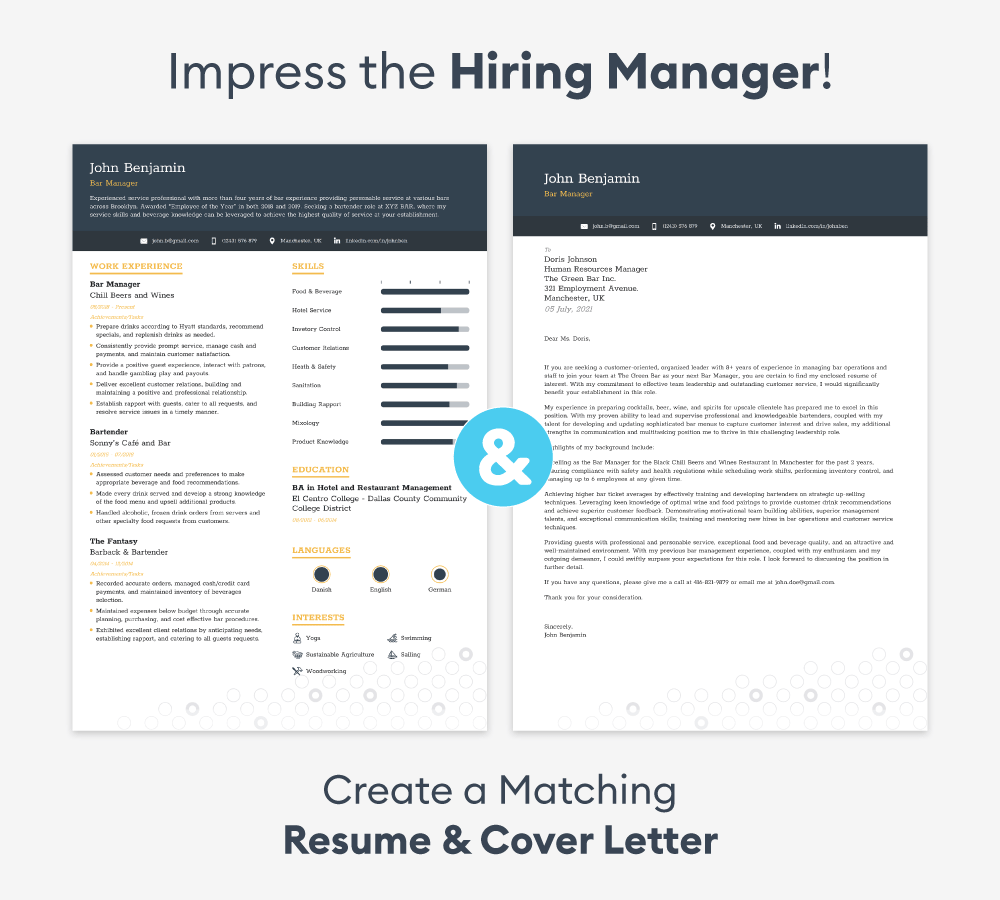 Step #3 – Greet the Hiring Manager
That's right, the hiring manager! Not the overly popular "Dear Sir or Madam." You want to show your future boss that you did your research and are really passionate about working with their team.
The simplest option is to look up the head of the relevant department on LinkedIn. Let's say you're applying for the position of a Communication Specialist at Novoresume. The hiring manager is probably Head of Communications or Chief Communications Office.

Step #4 – Write an Attention-Grabbing Introduction
Instead, you want to start off with 2-3 of your top achievements to really grab the reader's attention. Preferably, the achievements should be as relevant as possible to the position.
My name's Michael and I'd like to help XYZ Inc. hit and exceed their sales goals as a Sales Manager. I've worked with Company X, a fin-tech company, for 3+ years. As a Sales Representative, I generated an average of $30,000+ in sales per month (beating the KPIs by around 40%). I believe that my previous industry experience, as well as excellence in sales, makes me the right candidate for the job.
Now that we've covered the introduction, let's talk about the body of your cover letter. This part is split into two paragraphs: the first is for explaining why you're the perfect person for the job, and the latter is for proving that you're a good fit for the company.
Step #5 – Explain why you're the perfect person for the job
But first things first – before you even write anything, you need to learn what the most important requirements for the role are. So, open up the job ad and identify which of the responsibilities are the most critical.
In my previous role as a Facebook Marketing Expert at XYZ Inc. I handled customer acquisition through ads, managing a monthly Facebook ad budget of $20,000+. As the sole digital marketer at the company, I managed the ad creation & management process end-to-end. Meaning, I created the ad copy , images, picked the targeting, ran optimization trials, and so on.
Step #6 – Explain why you're a good fit for the company
Once you've written the last paragraph, you might be thinking – I'm a shoo-in for the job! What else do I need to write? I'll just wrap up the cover letter and hit that sweet SEND button.
I've personally used the XYZ Smartphone, and I believe that it's the most innovative tech I've used in years. The features such as Made-Up-Feature #1 and Made-Up-Feature #2 were real game changers for the device.
I really admire how Company XYZ thrives for excellence for all its product lines, creating market-leading tech. As someone that thrives in a self-driven environment, I truly believe that I and Company XYZ will be a great match.
What you don't want to do here is be super generic for the sake of having something to write. Most job seekers tend to mess this one up. Let's take a look at a very common example we tend to see (way too often):
I'd love to work for Company XYZ because of its culture of innovation. I believe that since I'm super creative, I'd be a good fit for the company. The company values of integrity and transparency really vibe with me.
Step #7 – Wrap up with a call to action
So to wrap it all up, thanks for looking into my application. I hope I can help Company X make the most out of their Facebook marketing initiatives. I'd love to further discuss how my previous success at XYZ Inc. can help you achieve your facebook marketing goals.
Step #8 – Use the right formal closing
5+ Cover Letter Examples
College Student Cover Letter Example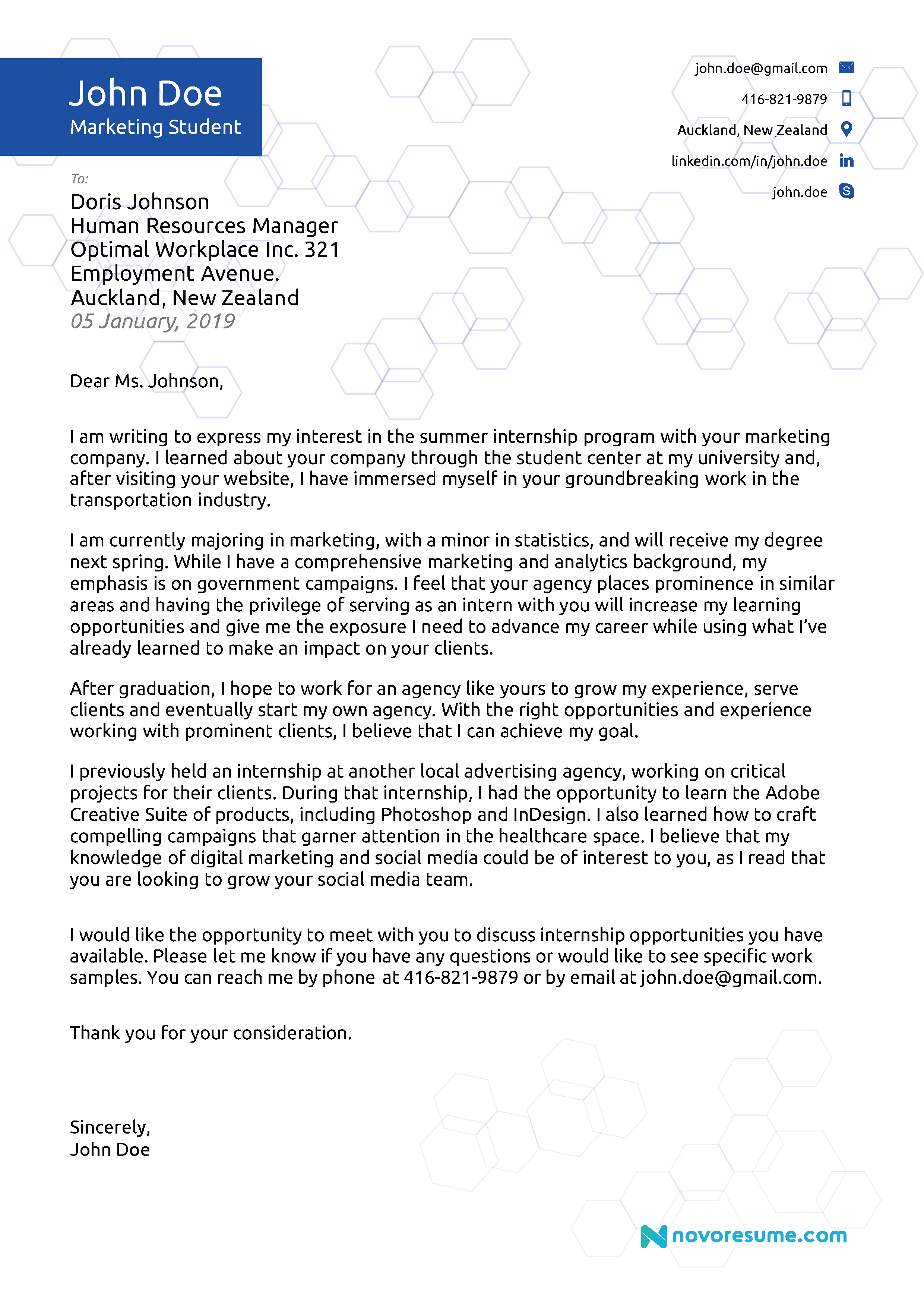 Middle Management Cover Letter Example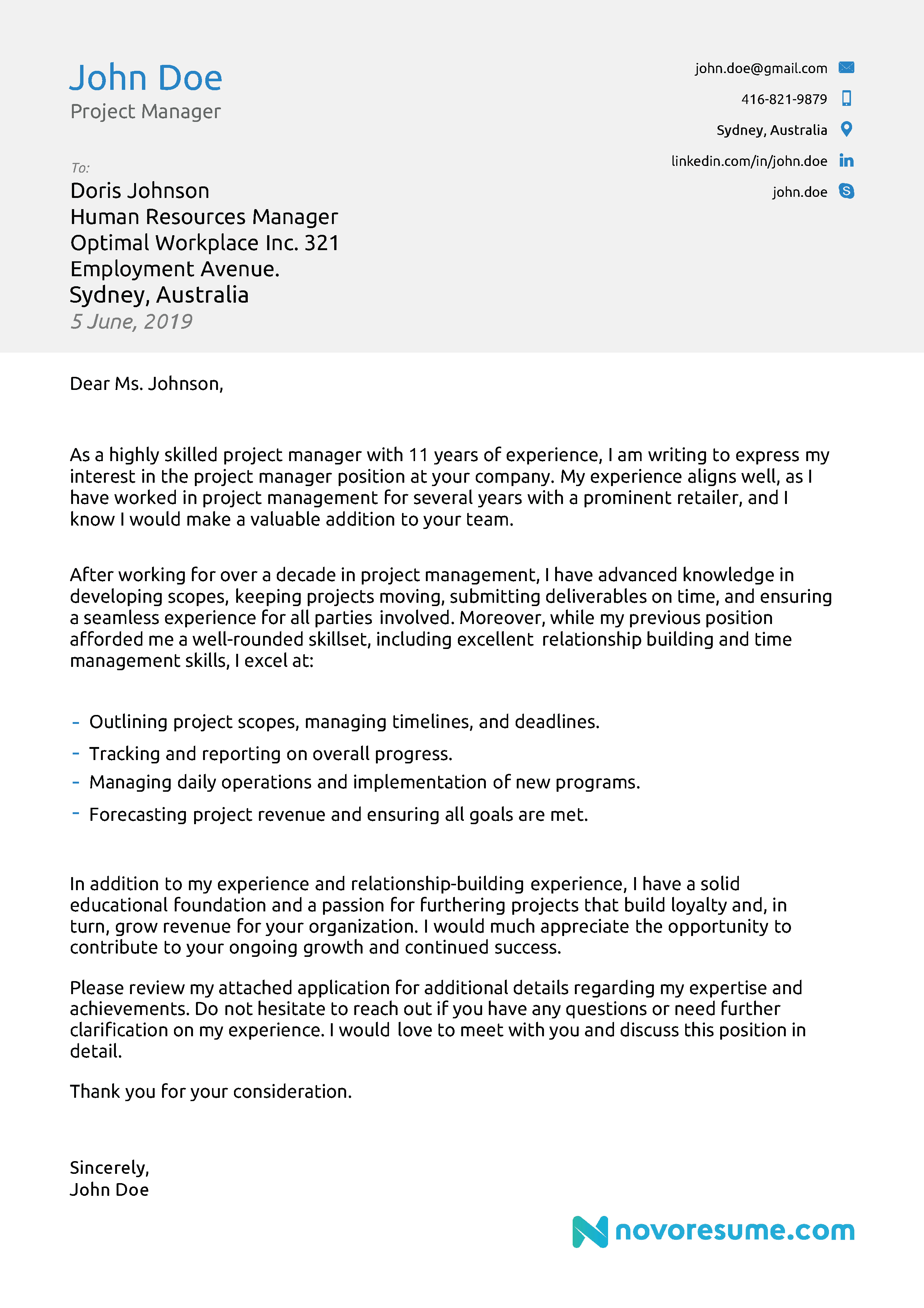 Career Change Cover Letter Example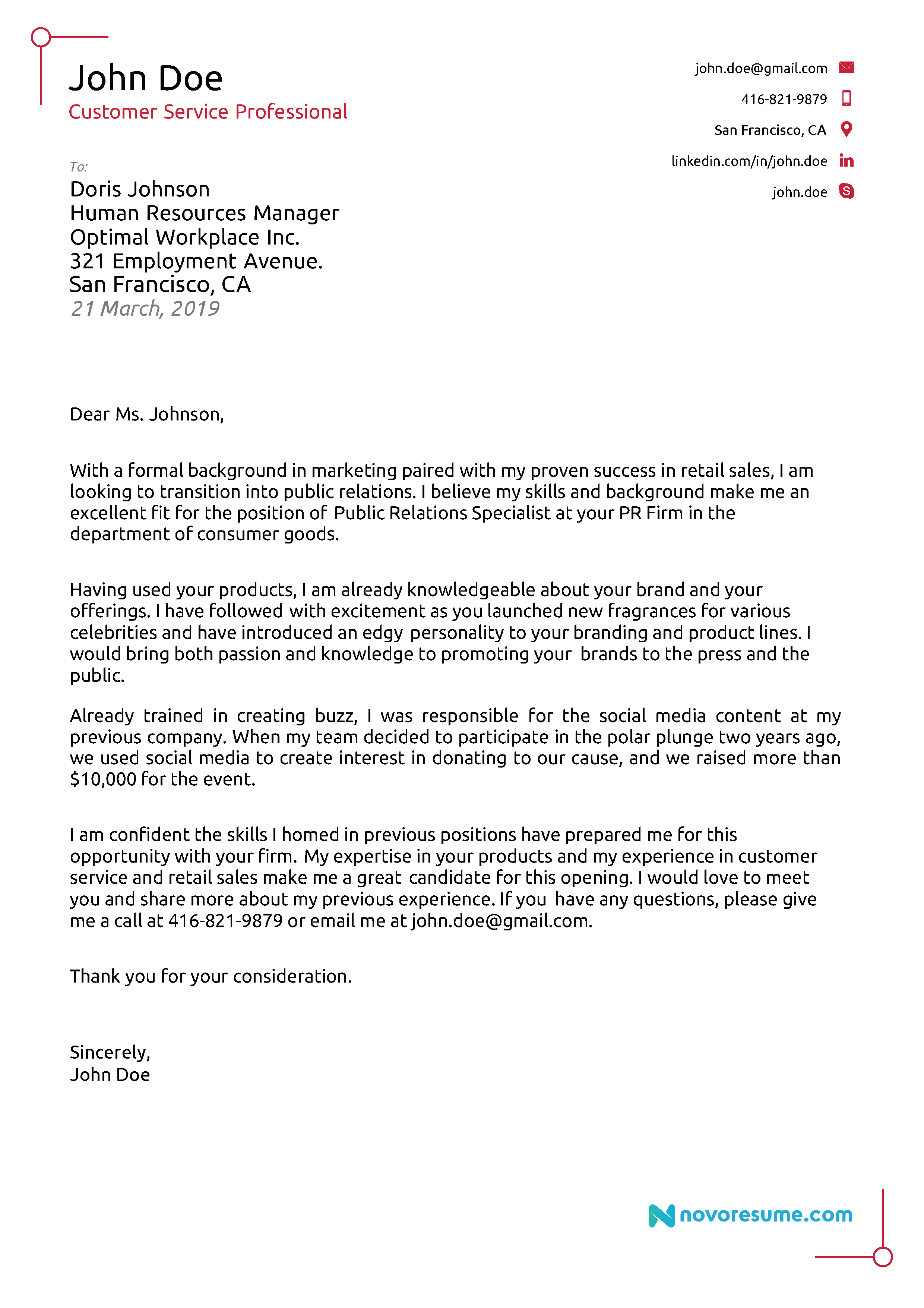 Management Cover Letter Example
Senior Executive Cover Letter Example
Source:
https://www.indeed.com/career-advice/resumes-cover-letters/how-to-write-a-cover-letter
https://resumegenius.com/blog/cover-letter-help/how-to-write-a-cover-letter
https://novoresume.com/career-blog/how-to-write-a-cover-letter-guide